Bella Hadid x EnvyFoxCouture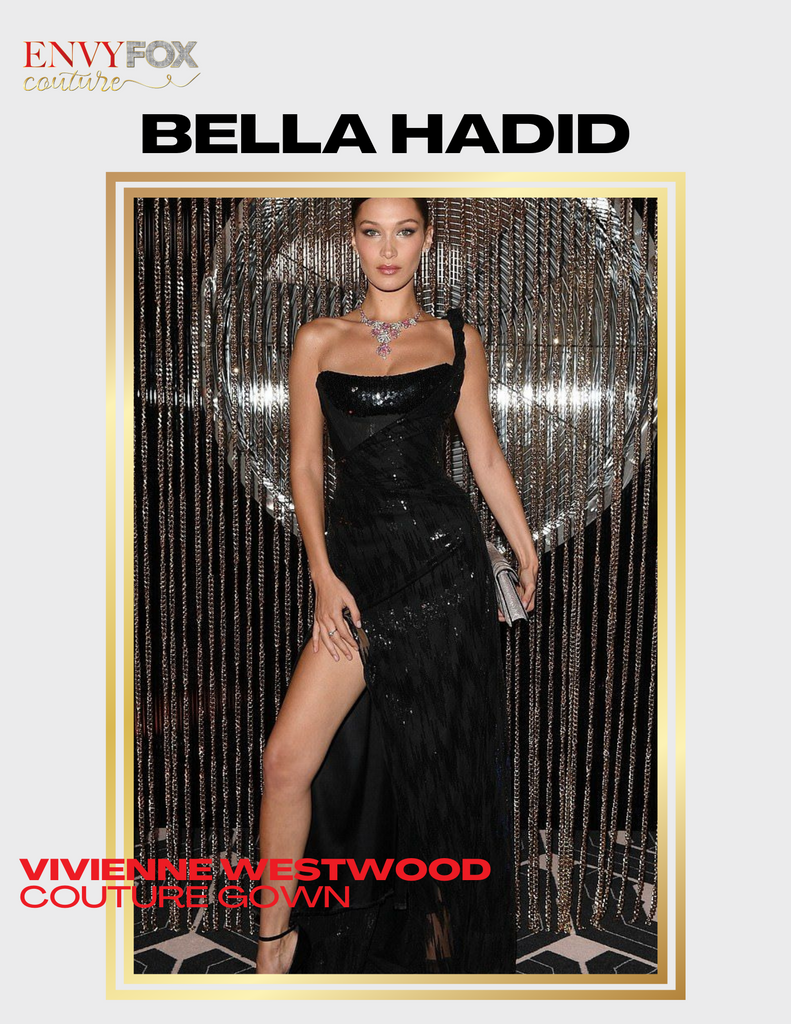 Models are always styling in the most fashionable clothing imaginable. Sometimes these pieces can be out of many people's comfort zone but that's what makes it unique! They give people the confidence to start wearing clothes they would not usually wear in their day to day lives. "If models wear it, then it must be a fashion statement!" is the thought that most people have. However, sometimes these clothes can be simple yet extremely elegant. As long as you wear something with confidence, then you will make the best of it! For example, let's look at Bella Hadid; one of the most famous models in the entire world. She is a fashion icon that is always wearing the best of the best. Always in designer clothes, showing the world her top notch everyday outfits. She also looks amazing every time she steps on a red carpet.

Milan 2018– she arrived at a dinner for the designer of Bulgari in a one-shoulder Vivienne Westwood black couture gown with Bulgari jewelry; showing a little bit of leg with the slit giving us an Angelina Jolie moment at the 2012 Oscars! She looked gorgeous and it was one of her best red carpet fashion moments.
Wouldn't you wanna wear such a beautiful dress too? Well, you can. EnvyFoxCouture has similar elegant dresses that will make you look just as amazing as Bella did in Milan the year of 2018 and will make people envy you. One of the dresses is called "Sequin Cutout One-Shoulder Split Dress" retailing at $115.98. Another one is called "Rhinestone Fringe Cutout Dress" at a price of $38.00 , giving you the slit moment you need. Perfect for a dinner, just like where Bella wore it too. You will be dressed in astounding fashion pieces worn by the best models of all time. And it doesn't end there. EnvyFoxCouture brings to you everything you can think of in fashion such as stunning couture, street fashion, shoes, accessories, fragrances, and much more!  Making you look expensive and making you  the center of attention, EnvyFoxCouture will be the next upcoming designer boutique and you won't be able to get enough of it. 
Similar Styles Available At EnvyFoxCouture:
Sequin Cutout One-Shoulder Split Dress - $115.98
Rhinestone Fringe Cutout Dress - $38.00
Shop Now at www.envyfoxcouture.com.